Be bold with a FREE club website
Build a no-code club website completely for FREE without any need for technical knowledge. Give your club exactly the kind of web presence it deserves.
CLUB WEBSITES AVAILABLE NOW
Book a demo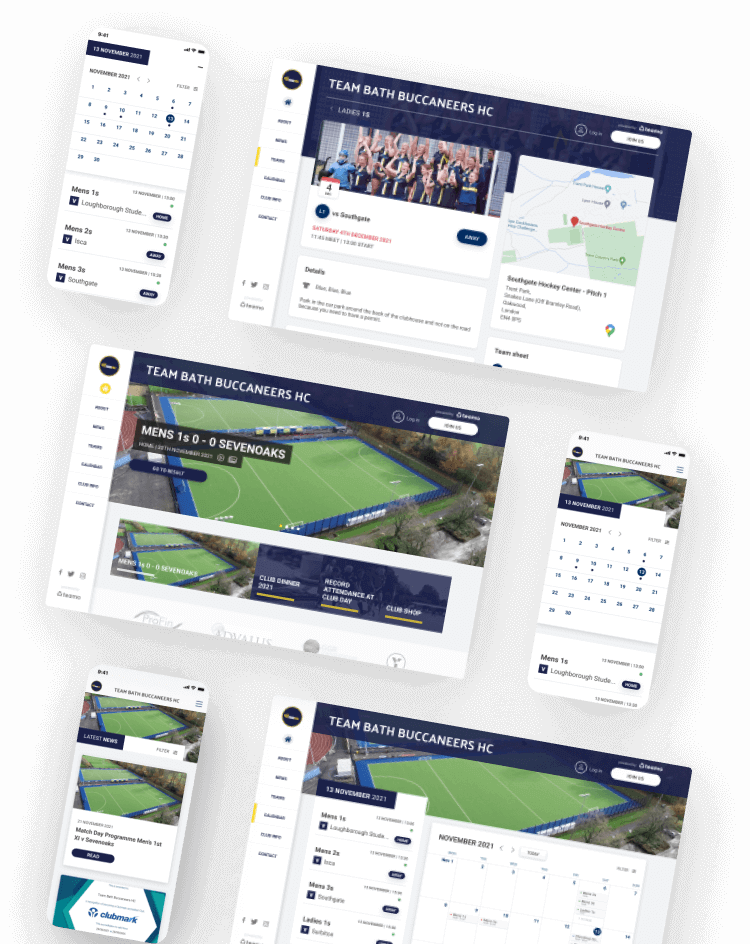 What TeamoSites offers you
Get a modern, responsive site with SEO best practice and a free security certificate
Your site is integrated with teamo fixtures, results, contacts, match reports etc. and is directly managed from the app
No technical "webmaster" required - simply appoint an editor as gatekeeper of content and custodian of your brand
An active website equals an active club, making it more attractive to sponsors and new members
Book a demo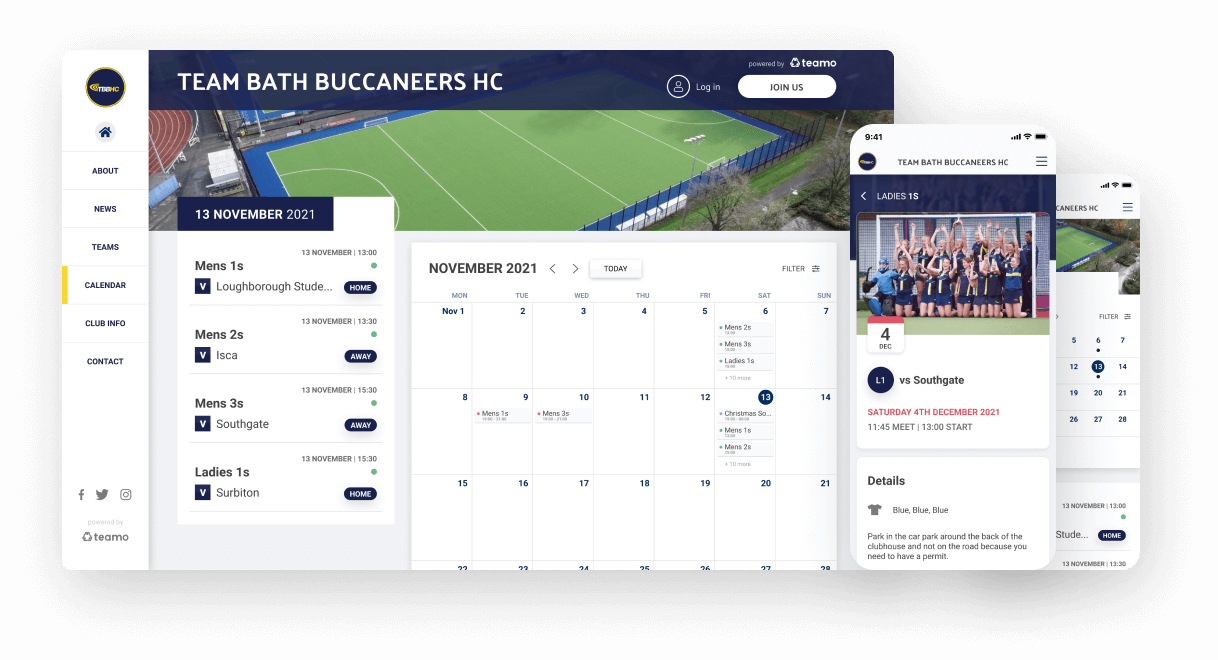 Take the stress out of websites
TeamoSites covers everything you need for your website to work securely, giving you the freedom to create, develop and manage your site with ease.
Free hosting
Free HTTPS certificate
Free cloud storage
Setting up your site
Create pages, sub-menus or external links either using pre-made templates or the easy-to-use page builder
Add sponsor's logos and link to external pages or to elsewhere in your site
Create teams and import fixtures
Create calendars for club sections or socials
Transfer your existing URL and content from your old site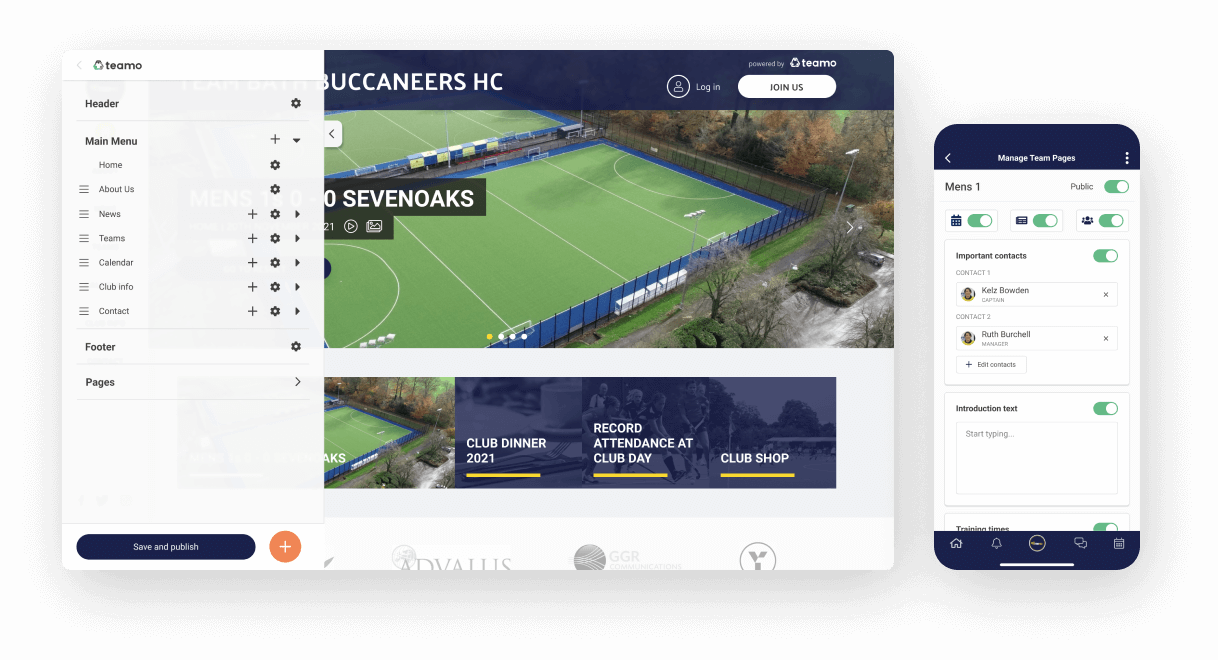 Building your pages
Add blocks of content to your pages
Blocks are laid out in a predefined template to keep your site looking sharp whilst giving you the freedom to add any content you like and reorder them
Create and edit your pages and match reports on desktop or mobile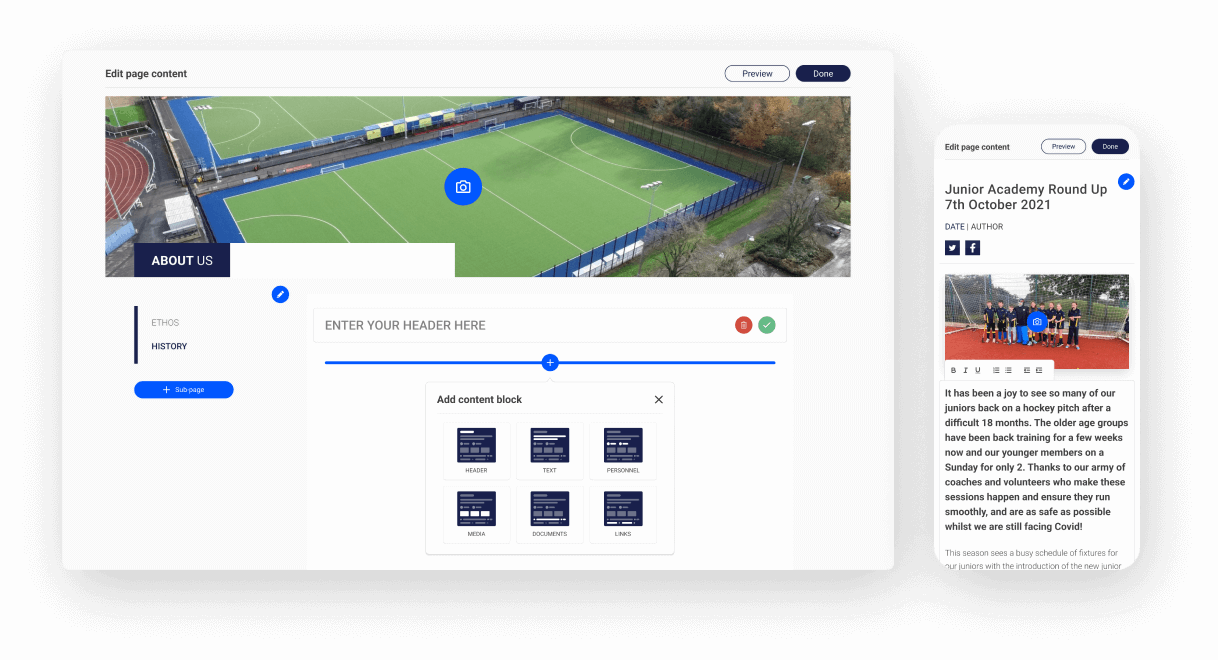 75% of people base credibility by a website
ukwebhostreview.com
How to increase the credibility of your club with TeamoSites
Easily keep your content fresh
Have a beautifully designed website
Ensure it is fully responsive on all devices
Have a call-to-action easily accessible
Managing your site
Keep content fresh on your site, directly from the teamo app
Club members are content creators and the web-editor acts as a gatekeeper of content, without any techincal expertise required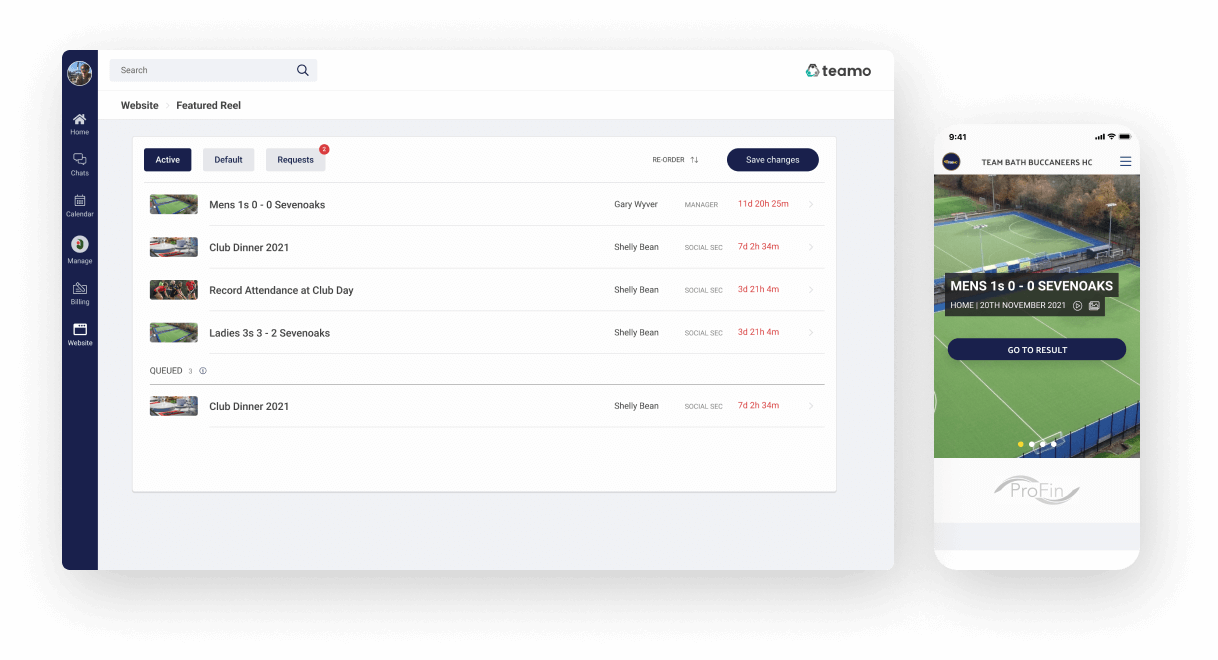 "Being able to maintain fresh content on the website from within the app will make my life so much easier"
webmaster, Team bath buccaneers
Handing you extensive control through the convenience of the app
No technical "webmaster" is required - simply appoint an editor as gatekeeper of content and custodian of your brand
From results and fixtures, to upcoming social events and top news articles, any content can be featured on the main highlights carousel quickly and simply with a few taps in the club's Teamo app.
Keeping an active website with regular content updates has never been so easy.
Keep your site active and attractive to potential new members
CONTENT POSTED
A team captain creates content in the app. With one tap in the app, they can request it to be featured by the webmaster.
WEBMASTER APPROVED
The webmaster approves the request in the app, scheduling for how long the content to remain as a featured story
CONTENT FEATURED
The content is published as a feature on the TeamoSite, allowing guests to quickly see it and access more information about it.
Teamo was created by sports club people to make whole club management simple
Whether you're a hockey, football, rugby, netball, cricket, tennis, golf, volleyball, squash, swimming or athletics club, Teamo works for you.
"Teamo has helped reduce the amount of admin time for the committee & playing captains "
CHAIRMAN, streatham & marlborough cc
How Teamo helps your club...
Manage availability and team selection
Communicate with members and guardians in multiple ways through chats, broadcast messages or TeamoMail
Never miss a payment and restrict selection based on outstanding payments in the payments center
Manage juniors in safe environment with guardians as the main points of contact
Integrate your club website with the power of Teamo to keep it active and up to date easily from the app
Get your free club website
Complete the form so we can arrange a time for a demo and get to know you better before we start so we can ensure you get the best experience Teamo can offer.